01 September 2016

IT was one of the great sights we've seen in the FFA Cup's three years. It was a moment made for midweek Cup competition.
A club stalwart, larger than life tracksuit clad veteran goalkeeper, wearing a hat in teaming rain, slotting home a goal from the penalty spot to inspire his side to glory.
It was brilliant stuff.
And even more impressively, Angelo Konstantinou's talents aren't just restricted to the pitch. He will jet off with Australia's national futsal team for the FIFA Futsal World Cup next week.
So who is the goal scoring goalkeeper, whose early strike set Canberra Olympic on their way to a 2-0 win over Redlands United in the FFA Cup's Round of 16?
Konstantinou is a pillar of Canberra's football community, having played for the Canberra Cosmos back in the old NSL days, and more or less part of the furniture at Olympic, a club he joined in 1993 at U16 level before going on to play over 200 matches in Canberra's top flight.
Speaking to Foxsports.com.au after Olympic's historic win, which saw the club become the first ACT side to advance to the FFA Cup's quarterfinals, the 37-year-old club captain said he was always going to be on penalty duty should Olympic be awarded a spot kick against Redlands.
"I've been taking the last couple of penalties," Angelo Konstantinou told Foxsports.com.au.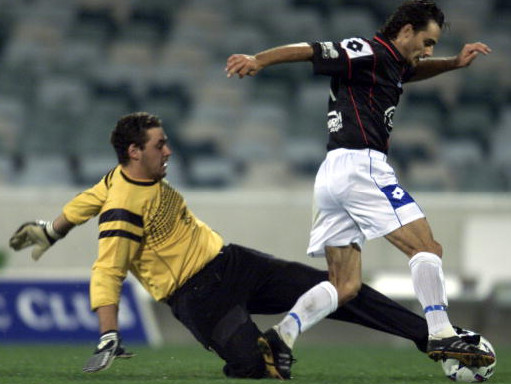 "Ever since last year, Philippe [Bernabo-Madrid, who scored against Surfers Paradise Apollo in the Round of 32] got injured, who was our main penalty taker, and then some of the other boys who stepped up kept missing, so I made the executive decision that I was the penalty taker from now on.
"I saw him [Redland's keeper Brendan White] go to one side. As a keeper, I know what they'd be thinking, so I've got a bit of an advantage on that.
"I've been taking penalties in the local league as well," adds Konstantinou, who has three goals to his name in the NPL Capital Football competition this season.
The goal and win against Redlands, the team that shocked A-League champions Adelaide United in the Round of 32, capped a memorable week for Konstantinou, who on Monday was included as part of the Futsalroos squad for the 2016 Futsal World Cup in Colombia.
However, representing his country at a second consecutive Futsal World Cup will mean Konstantinou will miss out should Olympic qualify for the ACT's grand final.
"It's been an amazing week - it's actually been an amazing year for me as well with Futsal and football," Konstantinou said. "I go into Sunday's game as my last in the local Premier League for the season and then we jet off to Colombia."
Although he'll miss Olympic's chance to claim consecutive NPL Capital Football grand final wins, Konstantinou said winning through to the FFA Cup's quarterfinals was yet another outstanding achievement in what has been a fantastic season for the club, which is celebrating its 60th anniversary in 2016.
"As a team, the win [over Redlands] means a lot," he said. "Obviously the boys stepped up at the chance to get through to the last eight, and in the club's 60th year.
"We've won the minor premiership, we've won the Federation Cup [local cup competition that now doubles as the qualifying tournament for the FFA Cup], and now through to the quarterfinals of the FFA Cup.
"We've just got the grad final to win to take home all the silverware."
If being a local NPL star and Fustal international wasn't enough to keep Konstantinou busy, the veteran keeper also owns and runs the Club Lime chain of gyms in Canberra, overseeing 15 locations throughout the ACT with over 700 staff and 30,000 members.
"Yeah, the business definitely keeps me busy," Konstantinou said. "But it's a balancing act.
"I've got to juggle work. I've got to juggle football. I've got to juggle futsal, which I travel to Sydney for, and then I've also been appointed onto the Capital Football board earlier this year, which keeps me busy as well."
So, does Konstantinou have any preference as to who Olympic face in the quarterfinals - perhaps a meeting with Tim Cahill and Melbourne City?
"It'd be awesome for Canberra and the boys if we could draw an A-League team, but it's up to the luck of the draw, so we'll see what happens," he said.
The Futsalroos will face Brazil, Ukraine and Mozambique in the group stage of the tournament, kicking off against the Africans on September 11.
http://www.foxsports.com.au/football/ffa-cup/angelo-konstantinou-canberras-goal-scoring-goalkeeper-and-futsal-international/news-story/88a67bdffab06088aca3be3f05dc0006